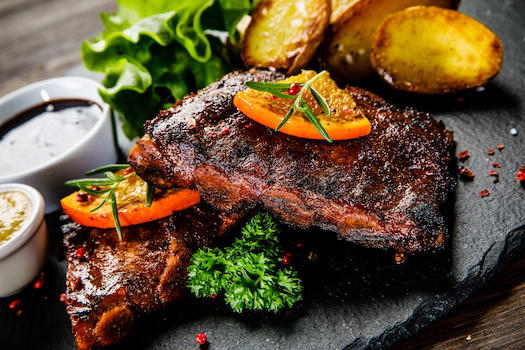 Jackson's Steakhouse
Jackson's Steakhouse procures only Midwestern grain-fed beef from the heartland of America. The Proprietor's Cut and fresh, local seafood are hand-selected and artistically prepared to perfection. Jackson's great steak cuts stand tall with the superb flavor of wet-aged beef that is like no other thanks to the culinary creations of Executive Chef Irv Miller.
Jackson's Steakhouse is the cornerstone of Pensacola's restaurant scene. We have set the standard for the ultimate dining experience since we opened in 1999. My approach to maintaining this tradition is deeply rooted in my love of cooking. I use only the freshest local and seasonal ingredients possible, and pair them with Midwestern wet-aged beef that I've selected by hand, and the best game meats available. Our team at Jackson's continually strives to provide an unparalleled food and wine experience for every guest, every night.

-Chef Irv Miller
Over the past two decades, Jackson's Steakhouse has earned the Award of Excellence from Wine Spectator nine times. Also, as a nine-time consecutive recipient of Florida Trend magazine's Golden Spoon Award, and now Hall of Fame recipient, Jackson's Steakhouse is considered one of Florida's top 25 restaurants and is placed by the Distinguished Restaurants of North America in the top two percent of all fine dining restaurants in the country.
Jackson's Steakhouse occupies the ground floor of the revitalized 1860s-era building that originally housed H. Pfeiffer & Company Mercantile. The building overlooks Plaza Ferdinand — where, in July 1821, General Andrew Jackson accepted the transfer of Florida from Spain to the United States and raised the American flag in Pensacola for the first time.
In 1998, a group of like-minded entrepreneurs were inspired to renovate the old building and open a restaurant to commemorate this historic event. The name of the restaurant would be Jackson's, with a re-creation of his signature serving as the logo and theme of the establishment. In keeping with this idea, since the restaurant overlooks the plaza where this moment in history occurred and where the bust of Jackson stands, they decided to create an atmosphere—from the handcrafted tree-branch light fixtures to the mural behind the bar—that would virtually put patrons in the park.
HOURS OF OPERATION
11 am-2 pm Lunch Wed – Fri | 5 pm Dinner Nightly
CONTACT
Restaurant Phone: 850-469-9898
400 South Palafox Street, Pensacola, Florida 32502
Blue Coastal – Your Pensacola Beach Vacation Experts
Delectable dining, unique boutiques, exciting events, amazing attractions, and more are waiting for you in the wonderful city of Pensacola. Call or email our reservation agents today and ask about reserving your accommodations in one of our gorgeous vacation rental properties to find out more information!