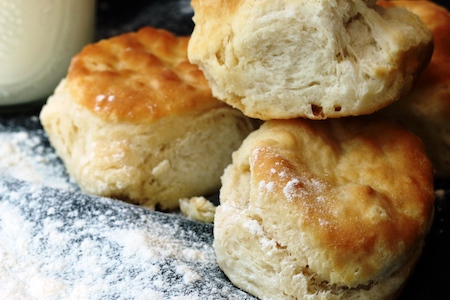 The Ruby Slipper Cafe
Ruby Slipper Café and Ruby Sunshine restaurants bring the unique flavors and hospitality of New Orleans to everyday breakfast and brunch. Founded in post-Katrina New Orleans, Jennifer and Erich Weishaupt turned a blighted corner store into a cozy restaurant, with the hope that it would help draw people back to the Mid-City community. The Ruby Slipper Café was an instant hit, becoming a sought out destination among both locals and visitors to the city. In the decade since opening that neighborhood storefront, Ruby Slipper Restaurant Group has become one of the fastest growing concepts in the Southern United States. The group has grown to operate two brands with eleven restaurants. Both Ruby Slipper Café and Ruby Sunshine remain owned and operated by the original founders. They serve all-day brunch and eye-opening cocktails seven days a week.
Ruby Slipper Cafe is an award-winning cafe famous for our breakfast, brunch & lunch offerings. We bring New Orleans flair to southern breakfast standards, brunch classics and fresh lunch dishes.
The Ruby Slipper Cafe was founded in May 2008, after Hurricane Katrina devastated the Mid-City, New Orleans neighborhood. In recovery from that life-changing storm, husband & wife – Erich & Jennifer found an opportunity to turn a blighted corner store into a vibrant gathering place where neighbors could enjoy excellent Breakfast, Lunch & Brunch fare in a casual and inviting atmosphere. The Ruby Slipper Cafe Mid-City was an instant success due to its inviting nature & innovative brunch & morning cocktail selections.
In December 2010, Ruby Slipper Cafe Downtown (200 Magazine Street in the CBD) opened and has become a popular destination for tourists, business people and local residents alike. In November 2012, Ruby Slipper Cafe proudly added its Marigny location at 2001 Burgundy Street followed by the opening of the Canal location in the French Quarter in early 2014. In July 2015, Ruby Slipper Cafe opened its first location outside of New Orleans, located in Downtown Pensacola, Florida and then it added to the gulf region by opening Orange Beach, Al location in June 2016. In early 2017 the cafe added a fifth restaurant to the New Orleans group in the Uptown, La area followed by a Baton Rouge, La location in summer 2017. Late that same year the Ruby Slipper transitioned the original location in Mid-City, New Orleans to a larger building that took two years of historical renovation. It now serves as the flagship location and home of the corporate headquarters. In 2018, the Ruby Slipper has opened two new locations in Downtown Mobile, Al and one in the historic French Quarter of New Orleans.
HOURS OF OPERATION
8 am-2 pm Mon – Fri | 8 am-3 pm Weekends
CONTACT
Restaurant Phone: 850-792-4834
509 South Palafox Street, Pensacola, Florida 32502
Blue Coastal – Your Pensacola Beach Vacation Experts
Delectable dining, unique boutiques, exciting events, amazing attractions, and more are waiting for you in the wonderful city of Pensacola. Call or email our reservation agents today and ask about reserving your accommodations in one of our gorgeous vacation rental properties to find out more information!